Preface



Old Masters
19th Century Art
20th Century Art
Modern & Contemporary Art
Antiques & Miscellaneous
Objects & Sculptures
Index of Artists & Preview
Further readings
Contact us
Selling to us
Links
Imprint




Looking for something special?

For confidential reasons we cannot display all works public, especially high-priced items. Please contact us directly and specify your interests (e.g. artist, epoch, style). If we can be of assistance, we will be pleased to release details about respective items at our login area and provide you with a password.








Adolf Ferdinand Schinnerer
(1876 - 1949)

Excellent prints
from different periods





Prints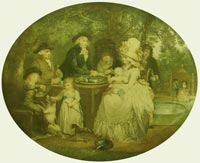 Francois David Soiron (Geneva 1764)
after a painting by George Morland (1763 London 1804)

A TEA GARDEN
Etching in colours with stipple engraving on browned Velin paper, at the platemark, 26,8 x 29 cm (10.5 by 11.4 in ). Oval shape. Inscribed within the plate "Morland pinx, Siron sculp".

...Details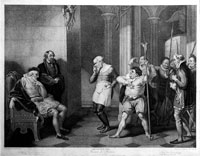 Theater, England, 18th Century
One of eigth large and most decorative engravings and etchings with stipple engraving after impressive dramatically Shakespeare performances. By J. Caldwell and T. Ryder after J. Durno and G. Hamilton, P. Simon and W.C. Wilson after H. Trefham and J. Northcote. Published as "Shakespeare Gallery" by J. & J. Boydell, London 1793-1803. Dimensions: each approx 44 x 60 cm (17.3 by 23.6 in). Inscribed with the title, publisher adress and signed within the plate.

...Details

Arts and Crafts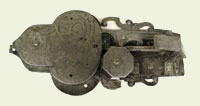 Antique Cabinet Lock, 18th Century
Wrought-Iron, gravure ornamented, approx 14 x 28 cm (5.5 by 11 in).
Original fitting to a cabinet of the Baroque period. A most decorative collectable item.

...Details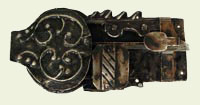 Antique Cabinet Lock, 19th/18th Century
Wrought-Iron, ornamented, approx 11,5 x 23 cm (4.5 by 9.6 in). Original fitting to a painted southern German cabinet of the 19th/18th Century. A decorative collectable item.

...Details

Antiques and collectable Furniture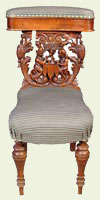 Antique Smoker Chair, 19th Century
Solid oak, with a hand-carved scene of two peasants in a tavern at the backrest and constructed with a hidden secret compartment on the top, which is prepared for smoking utensils. Rare antique most collectable and decorative item. Unrestored with a missing part of the carving and traces of use, generally good condition.

...Details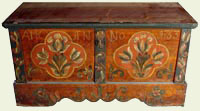 Large Antique Chest, 18th Century
Solid wood, 73 x 143 x 65 cm (high by 28.7 in, wide by 56.3 in, deep 25.6 by in). Dated "1763". Original hardware hinges, lock and key. Fine authentic Bavarian rural style furniture, so-called marriage chest, with rich hand-painting and carving. Unrestored with traces of use, generally good condition.

...Details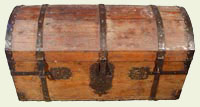 Antique Cest, 18th Century
Solid wood with iron mountings, 60 x 107 x 51 cm (high by 23.6 in, wide by 42.1 in, deep 20.1 by in). Original hardware hinges and lock, without key. Dome topped, very decorative and authentic box with the rustic charm of a treasure chest. Unrestored with traces of use, generally good condition.

...Details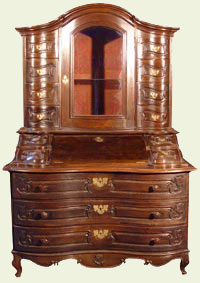 Secretaire a trois corps, 18th Century
Solid oak, 192 x 130 x 78 cm (high by 75.6 in, wide by 51.2 in, deep 30.7 by in). Stands in three parts, at the upper with a one door glaas vitrine at the center, flanked from four small drawers on each side, constructed with central locking. The middle with a fold-down writing compartment and another two small drawer on each side. Bottom commode with three large drawers below. Richly carved. Period hardware, locks and keys. Unrestored with traces of use, generally good condition. A stunning and most decorative furniture from the period of Rokoko.

...Details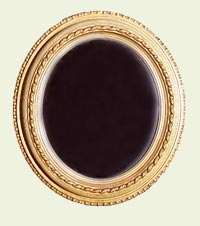 Antique Frame, 19th Century
Applied ornament and gilded. Oval shape, mirror glass mounted. H. 48 cm (high by 18.9 in). Unrestored with traces of use, generally good condition.

...Details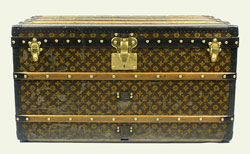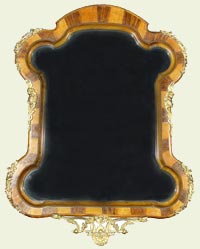 Antique Mirror, 19th Century
Walnut veneer, decorated with gilded bronze appliques. 90 x 70 cm ( 35.4 by 27.6 in). Elegant and decorativ mirror of most unusual shape. Unrestored with minor traces of use, generally good condition.

...Details

Please note: Miscellaneous section was recently added to the portfolio of our website. Herein we offer decorative and collectable items so as art and antiques, all at affordable prices. Primary on commission basis and in various conditions, ranging from excellent and shabby chic style to unrestored with more or less traces of use and/or incomplete items. Descriptions are given at best knowledge but we do not sign responsible for the correctness, completeness or quality of the information provided including all of our attributions. First hand view is recommended. All items are returnable.

Displaying only a small selection, currently we carry about 500 more similar items in stock. If you search for specific items please contact us directly or join our mailing list and keep abreast of our latest acquisitions.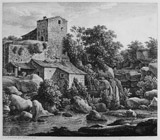 Reinhart, Johann Christian
(German, 1761 -1847)

Collection of fine etchings... beautiful Italian landscapes
Read more...




We are
always interested
in purchasing
Either single items
as well as
complete collections


Selling to us...